My Updates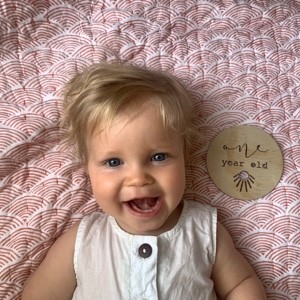 Our Story
Saturday 10th Sep
On 9th Sept last year our beautiful Mahlo had a stroke in utero which though unbeknownst to us at the time, triggered the chain of events that led to his emergency birth and rough start to life.
After being told this shocking news when our precious baby was only 8 weeks old, we were sent on our way with just a referral to see a paediatric neurologist with a several month long waiting list and a casual mention that we should probably start taking him to physiotherapy. We didn't receive any counselling and weren't provided with any resources or further information to help us come to terms with the significant & life changing diagnosis we had just received. The months that followed while we waited for our appointment with the neurologist were filled with grief, despair and confusion as we grappled to understand how this could have happened and what it would mean for Mahlo's future and the future of our family.

We were desperate for some sort of guidance however quickly realised that there were way more unknowns and uncertainties than answers, and we really started to loathe being told that we'd just "have to wait and see" in response to our questions. We learned that perinatal strokes are in a ball game of their own with long term outcomes being far more difficult to predict than in adult strokes, and though they occur in around 1 in 2500 births, research is really lacking and there is little awareness both in the community and amongst health professionals. For lots of survivors not only does this mean a critical delay in diagnosis and the commencement of invaluable therapies that can drastically change long term outcomes, but it also means a lack of access to helpful resources and an absence of support when you need it the most, which further compounds the grief, despair and isolation felt after a diagnosis.
Thankfully it was during this excruciating time  that I discovered Little Stroke Warriors, a part of the Stroke Foundation created by two mothers who had been in exactly the same boat as us. For the first time we had support, resources and information to give us some clarity and most importantly, some hope. 
So, it is for this reason that for Mahlo's first birthday we would like to raise money for Little Stroke Warriors & the Stroke Foundation in order to fund more research and awareness surrounding perinatal strokes and also provide support and resources to families. We would love to see a world where perinatal strokes can be prevented but if that's not possible then a world where they are at least quickly recognised, thoroughly understood and consistently well-managed would be life-changing for so many. 
Any amount you are able to contribute would mean so much to our family and many other families like ours 💜
With gratitude, 
Jaiden, Rory, Odie & Mahlo, our little warrior x
Share
Thank you to my Sponsors
Anonymous
Jaiden & Rory
Buie, Marie And Julian X
Phil Slade
Anonymous
Claudia And Mikel
Bhavni, Colm And Jaya
Claire & Ryan
Bede, Loz, Frey, Zaali & Rem
Teneile Gray
Bonnie & Nick Tonkes
Felicity Smith
Tom & Lu
Anonymous
Hannah
Tina Zissis
Stace And Linds
Rachel & Rob Blackmore
Angela W
Sophie
Victoria Ferro
Saskia
Kat Mcallister
Jess
Anonymous