We're fundraising to prevent, treat and beat stroke!
This year the Leeming Spartan Cricket Club is fundraising for the Stroke Foundation to raise awareness and funds to prevent, treat and beat stroke.
This year there will be almost 56,000 new and recurrent strokes – that is one stroke every 9 minutes.
Stroke is one of Australia's biggest killers and a leading cause of disability. It kills more women than breast cancer and more men than prostate cancer.
With your support, the Stroke Foundation can provide support to those affected right now and fund research to help prevent stroke, save lives and enhance recovery.
Any donation goes directly to the Stroke Foundation and from one not-for-profit to another, we are delighted to have your support and thank you immensely.
My Updates
Check Out Our Post On Our Website
Monday 21st Sep
The Leeming Spartan Cricket Club has posted on their website to raise awareness of the impacts and signs of a stroke.
If that doesn't work, please copy and paste the link below!
https://spartans.com.au/spartan-news/fundraising-for-stroke-research/40888/

Share
Signs Of A Stroke
Monday 21st Sep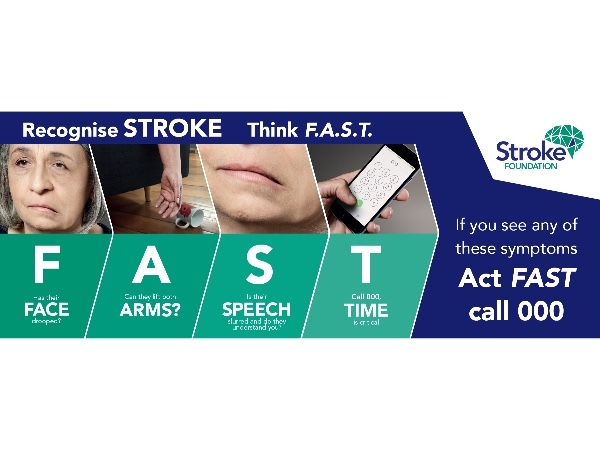 Signs Of A Stroke:
How do you know if someone is having a stroke? Think… F.A.S.T.
The Stroke Foundation recommends the F.A.S.T. test as an easy way to remember the most common signs of stroke. Using the F.A.S.T. test involves asking these simple questions:
Face: Check their face. Has their mouth drooped?
Arms: Can they lift both arms?
Speech: Is their speech slurred? Do they understand you?
Time: Is critical. If you see any of these signs call 000 straight away. What to do while you wait for an ambulance
Share
Thank you to my Supporters
Daniel Coombs