The power of stroke prevention, treatment and care is in your hands.
Stroke can happen to anyone, of any age and affects everyone differently.
It's estimated more than 27,400 people will have a stroke in Australia for the first time in 2022, equating to one stroke every nineteen minutes.
Support from the community enables Stroke Foundation to move faster and achieve more in it's mission to fight stroke.
Fundraise your way in 3 easy steps...
Choose your fundraising idea
Fundraise your way. Choose to get active, celebrate a milestone, remember a loved one, or simply fundraise and raise awareness online.
Create a Fundraise4Stroke page
Create your page and share your story about why fundraising for Stroke Foundation is important to you.

Make a difference
Share your page with family, friends and colleagues and ask them to join your event or support your fundraising efforts.
TOGETHER

4

STROKE
Get together with friends, family, or colleagues to host your own event, or to gather in memory of a loved one. Ideas include a morning tea or candle light ceremony in memoriam.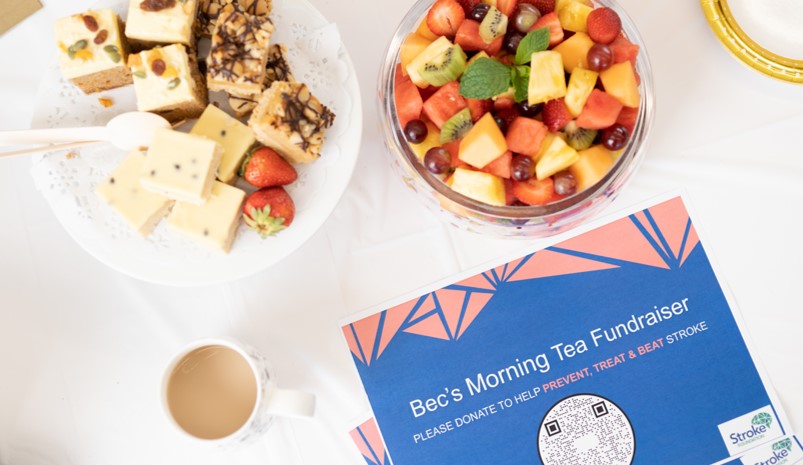 We're here to support you. Need ideas or fundraising help?
Contact us at fundraising@strokefoundation.org.au or call 1300 194 196
Together we've raised
$566,115
TO HELP
PREVENT,

TREAT
AND
BEAT
STROKE
Luke Nunn just donated

$45

Kristy & Ramsey Issa just donated

$50

Matthew Azar just donated

$50

Giulianna just donated

$100

Golf Day Attendees just donated

$2,431

JC just donated

$47.48

Alan Leary just donated

$316.50

Cobb Lane just donated

$211

PFG AUSTRALIA PTY LED just donated

$435.30

Kuang just donated

$10.55

Shaun Watson just donated

$21.10

Andrew Fisher just donated

$45

Kane Saunders just donated

$52.75

Robert Armitagebrown just donated

$52.75

Robert Balzarolo just donated

$47.48

Rachel Brideson just donated

$47.48

Zac Seipolt just donated

$20

Julie Rule just donated

$30

Paul O'Connor just donated

$47.48

Elizabeth Smith just donated

$45
Pay it forward
We know that 26 people leave hospital each day after a stroke with no support or resources*.

That's 26 people each day falling through the cracks.
By raising awareness, sharing your story, and fundraising in your community, you help to make sure that no one feels alone.

Together, we will ensure that survivors of stroke and their families have support not just in the immediate aftermath, but along the whole journey of recovery – however long that takes. You give researchers the time and resources to do their work to find the next game changer in stroke.
*Stroke Foundation's National Acute Stroke Audit

About Stroke Foundation
Stroke Foundation is a national charity that partners with the community to prevent stroke, save lives and enhance recovery.
We are the voice of stroke in Australia and work to:
Raise awareness of the risk factors, signs of stroke and promote healthy lifestyles.

Improve treatments for stroke to save lives and reduce disability.

Improve life after stroke for survivors.

Encourage and facilitate stroke research.

Advocate for initiatives to prevent, treat and beat stroke.
How others Fundraise

4

Stroke
Men's Health Awareness Ball
In 2021 Financial Reporting Specialists, held a gala ball to raise awareness and funds for Men's health.
Nathan's Steps For Stroke
For National Stroke Week Nathan attempted the LBG Bridge to Bridge walk to raise awareness and funds for Stroke Foundation.
Sara's 39 is the New 40 Fundraiser
2022 survivor of stroke, Sara, decided to fundraise in leiu of birthday presents. In addition she'll be challenging herself to get active for every donation!
Townsville University Acute Stroke Unit Team respresented Team Stroke in the Cairns Running Festival